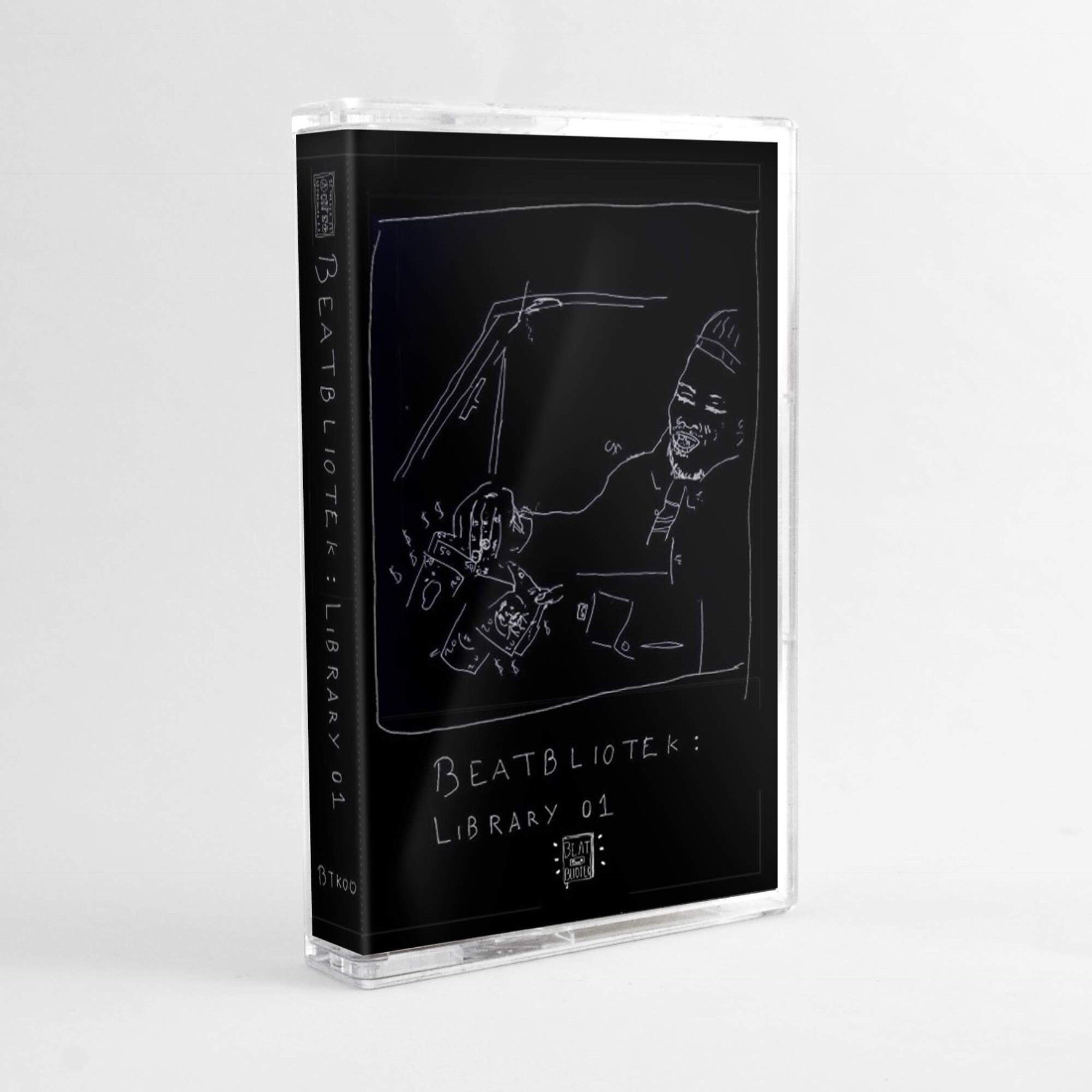 The French blog and music platform beatbliotek has been covering some of the freshest beat tapes and lofi instrumentals as of late. While only a handful of sites display heaps of love and dedication towards the booming producer culture, beatbliotek stands out as one of the finest at covering the scene. On top of music journalism, they also just launched their first producer-driven compilation Library 01. With the title alone, I was hooked. Featuring 19 instrumentals from familiar names like SNKA, Sleepdealer, Lzu., Lidly, pax, Drwn., CoryaYo, and numerous others, it's a 35 minute escape, fitting for a car ride or an afternoon walk. I spoke with beatbliotek mastermind Bre Biou about the website, the compilation, and what's in store down the road.
How would you describe the sounds of Library 01?
Library is a cassette compilation that features 19 beatmakers. Rising ones like Lzu, Hentzup, M a n n y., and more "veteran" / established ones like SNKA, Lidly, Khryo or FarragoL.
There is not really a "specific" sound or style as they are simply artists that the beatbliotek team appreciate and who already impressed us with their previous productions. Actually, we could say it's kind of the "beatbliotek" sound [laughs]. Even if it mixes different beatmaking styles, The tracklist is quite consistent and everything's matching great.
Obviously I love that it's called Library. How did you decide on this name, as well as the name Beatbliotek?
Beatbliotek is the combination of 'Beat' and 'Bibliotheque' which means Library in English. Beat sounds pretty much like "Bi" from the french word "Bibliothèque" so it fits really well! Beatbliotek is our library where books and magazines are replaced by beatmakers and labels. And this compilation is an extract of it, the first one. So this name keeps the connection and reminds us of our goal.
Do you plan to release more compilations throughout 2018?
I hope so! I guess volume 2 will come in 2018. We also have a huge project, to fund our own label and release some great stuff from beatmakers we love.
Have you always been interested in instrumental music?
Yes definitely! First loved hip-hop with my basketball mates. Then I discovered Pete Rock playing NBA Street, Nujabes in Samurai Champloo and one of my best friends was a huge Dilla fan. I started to blog in 2011/2012 about the beat scene.
What are some important instrumental albums for you?
I can't list every one of them. I would say Flying Lotus's Cosmogramma, Onra's Long Distance were the first albums. Kauliflowr (Knxwledge), ILLER / VIRTUAL FLANNEL and Shungu's An Astrological Series are also important for me too !
How many people are assisting with Beatbliotek?
Mystraw, Gabriel, Philippe and me (Bre Biou). But we have the support of all the SupaGroovalistic & Comala Radio teams. We are a family!
Who are some producers you're excited to hear new music from in 2018?
Lot of producers [laughs]. It's difficult but I want to hear more from Kiefer, Ohbliv, or SNKA this year!
The website/platform is still young. What do you plan to do with beatbliotek in the future?
First of all, we're gonna keep supplying the website with new artists and new labels to achieve our goal creating one of the most complete websites about the beatmaking scene. We're also gonna keep updating as much as possible the news feed with new releases, projects that keep our attention, everything related to the beat scene. And we will make a radio show on Comala Radio. Like I said before, we're also thinking of creating our own label but it's not our priority at the moment.
Do you have any advice for blogs/collectives working on their platform?
Set goals to keep motivation. Take your time to be open to criticism and improve it. HAVE FUN!
Any final thoughts / words of wisdom?
Thanks to you for you interest in our project. We appreciate it a lot and it's great to make connections with people and collectives who share our passion for music!