Ralph Steadman. An illustrative icon. One who painted the Gonzo dimension with hefty pens and plentiful ink stains. The henchman and partner-in-crime to so many of Hunter S. Thompson's heroic, drug-fueled tales (including Fear & Loathing in Las Vegas and The Curse of Lono), Steadman helped push a psychedelic realm of hallucinatory art where decadent dreams turn into filthy, slobbering nightmares all too quickly.
With decades of album covers, beer bottles, children's books, Rolling Stone features, and much more (including books on whisky and Freud), the 80-year-old British artist is perhaps best highlighted in the 2012 documentary For No Good Reason. I highly recommend you watch that instead of depend on me for a well-worded description of the man, because for me to properly define Steadman and to praise him thoroughly? I would need much more than a couple of paragraphs; I would need a truckload of journals full of run-on sentences. So without further ado and without further ramble, enjoy a quirky and fitting Q+A with one of the most significant and influential figures in the art world.
How has 2017 been treating you so far?
Awful! The worst ever. I caught a virus after new year and am only now beginning to feel better.
It's summer camp and you have to describe yourself as a means of an icebreaker. How do you begin?
Um...I don't like football so please don't ask me about that. I like bird watching. I like watching the little animals moving about, doing whatever they do.
What's the rest of the year looking like for you?
It could improve. We have two books coming out, Critical Critters about endangered animals and a children's book called Again! which is about me and my grandson, Oliver.
Are you forever multi-tasking or always focusing on one particular project?
Always have certain things going on. I often have a big project going on and then smaller things come up and I take a break from the big project and focus on the small one for a couple of weeks.
What were your art habits like as a child?
I wore an apron with an elephant on it. My father would say, "An elephant never forgets." If I started a project, I usually didn't forget to finish it or lose interest.
You've illustrated everything from drug trips to children's books to art biographies to informative pieces on endangered animals. How do you enter into these worlds?
I met Hunter Thompson and that was it. I find a collaboration a big part of a project. The same with Critical Critters. It is my third book with Ceri Levy and we have fun, we laugh, play with words.
What are some studio essentials?
Overhead lights, an ink compass, definitely and a diffuser (or a confuser). Occasionally I put on LPs.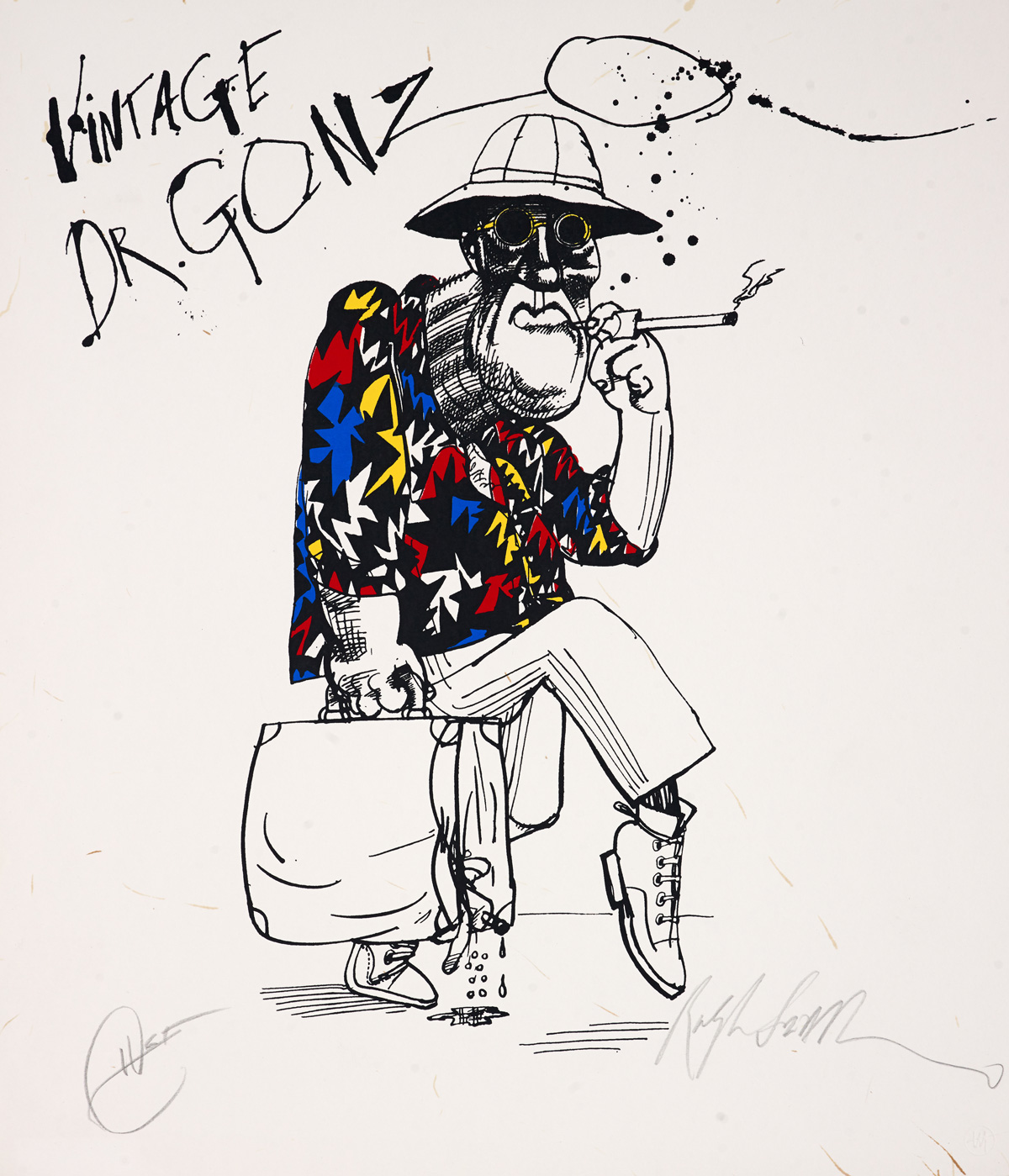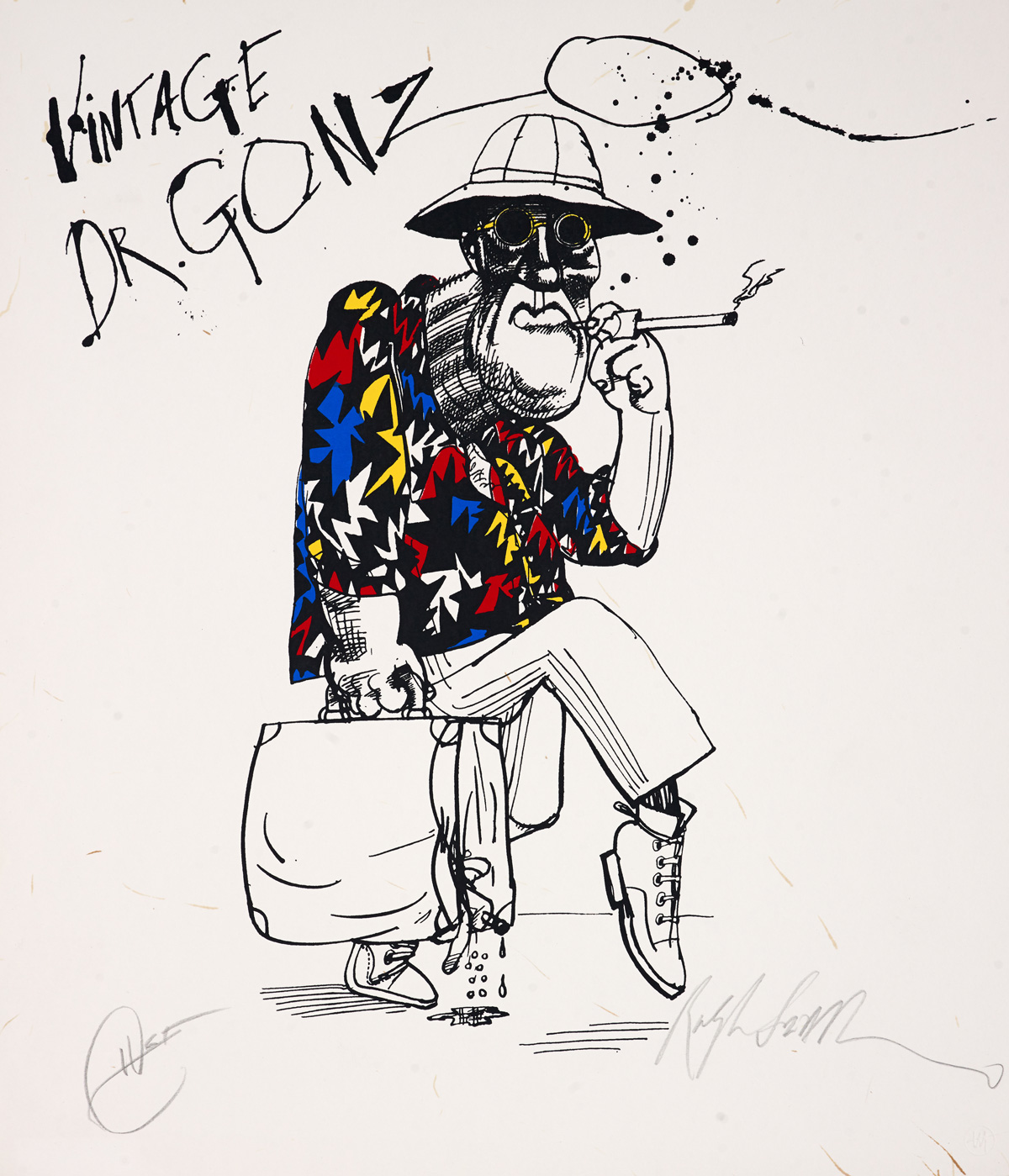 What have you been listening/watching/reading as of late?
I just started a book about Berlin.
I am watching Call the Midwife, The Great Pottery Throw Down and the Antiques Road Trip. I like Scandinavian Noir thrillers like The Bridge. I like documentaries and Richard Attenborough nature programmes. Anything he narrates is great.
I recently discovered a new musical artist called Milton Banana! He is quite good. I like listening on LP if I can. One I particularly like is Ligeti.
Do you have any advice for artists working on their craft?
Don't pencil in first. Go straight in with whatever materials you are using and hope for the unexpected.
Any final closing thoughts / words of wisdom?
There is no such thing as a mistake, a mistake is an opportunity to do something else.