Portland, Oregon's current music scene is buzzing and blooming. Artists like The Last Artful, Dodgr, EASTGHOST, Neill Von Tally, nad Aminé are helping to put the Pacific Northwest rap game on the map. Independent label Fresh Selects is at the forefront of this movement and thanks to their 'Tight Songs' radio segment, I saw some original artwork done by artist/illustrator Matt Schumacher aka Matt Schu.
The cover really caught my eye. I wanted to know what was on the record player; I wanted to see what was outside the window. After further browsing through Schu's Instagram and Tumblr pages, I fully took in his precisely-made creations, which often feature architectural stills (both interior and exterior) of American life. Soft tones, autumnal and rustic, while also adding elements of humor, talking animals, and music. Like a dog playing the piano, a bird on the trumpet. I sent some questions over to the talented pen wielder and he helped provide some insight into his world, including his favorite food. Also, it's worth noting that I usually only include about ten images per interview, but I think this one has 24. Too many pieces I had to include. Stay awake.
How has 2017 been treating you so far?
2017 has been good! End of last year I was moving and job hunting, but I'm all settled now so it's good to relax.
For those unfamiliar, how would you describe yourself in a couple sentences? Icebreaker shit.
I don't know, I feel like I'm always bad at doing this…I'm an illustrator living in Portland. I like drawing, reading, going on long walks. I always take too long to respond to emails. I'm very tidy. Hopefully I've painted a picture for you here.
What's the rest of the year looking like for you?
Well I suppose the plan right now is to draw a lot. I'm gonna try to make some more comics this year. I like getting my work out there, so hopefully I can do more and more commissions. Maybe you'll see my work hanging in your local Starbucks? This is gonna be the year of Matt, I can sense it.
I came across your art through Fresh Selects. Are you born and raised Portland? What's the art scene like in Portland?
Fresh Selects is great! It was cool to be able to draw a little something for the show. I'm not technically born here, but I've been here since I was a baby so I'm definitely raised here. But I like the art scene here a lot. There's a lot of DIY stuff going on, and all the artsy people I know in town are really supportive of each other. Some great artists I'm into come through town too, for conventions, book tours, stuff like that. So I'm pretty happy being in Portland right now.
Is most of your work personal or do you also do commissions/freelance?
I tend to draw every day, so I do more personal stuff for sure. But I do freelance and do commissions from time to time. I've done stuff for local papers like the Willamette Week, and I've done some art for online articles here and there. I'm trying to do more and more freelance illustration, I love having a printed/published version of my stuff out there.
What were your art habits like as a child?
I've always drawn a lot. I used to copy drawings out of books and comics when I was younger, and I'd always draw characters from cartoons I liked. I've been drawing basically everyday forever. My uncle paints, and he's into comics too, so I'd draw with him a lot. I'd also draw with my mom, and she used to trace pictures out of books I liked. I had friends in grade school who liked drawing too, so I got a lot of encouragement when I was younger.
I recently watched a movie called The Lobster, where humans have to turn into an animal of their choice if they don't find a mate in 30 days. If you had to choose, what animal would you become?
I think I'd like to be a cat, they seem to match my energy level now so I think it'd be a good fit. 90% lying around and 10% anxious sprinting, that's the life for me. But ideally I'd find a mate on day 29 and just stay a real boy.
Outside of art/illustrations, do you have other hobbies/interests?
Drawing is definitely my main thing, but I also like books. I like reading them and buying them, and piling them up around my apartment. I also have about 15 plants in my apartment which I care for deeply. And I'm very interested in mac n cheese.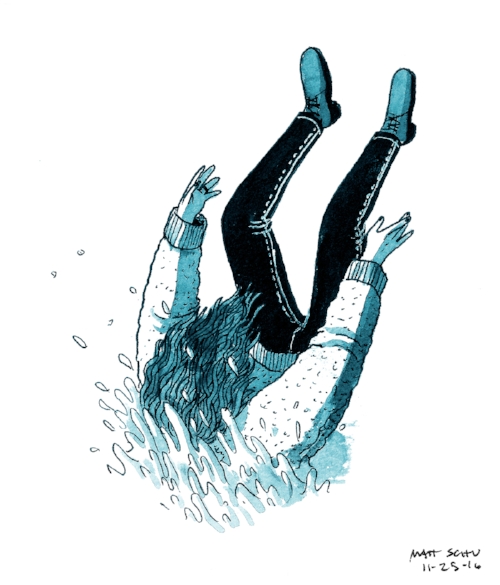 What are some studio essentials? (instruments, programs, music, caffeine, etc.)
My essentials are a waterproof pen, some ink and brushes, Photoshop, a scanner, a drawing tablet, a glass of water, and some white out. Most of the time I listen to music while I draw, but sometimes I just like it to be totally quiet.
What have you been listening/watching/reading as of late?
I'm currently reading a book called Architecture Oregon Style, and another called A Field Guide to Wildflowers. The last thing I watched was a Wallace and Gromit VHS tape yesterday morning, and the night before that I was watching Scooby Doo. And right now I'm listening to Supertramp.
Do you have any advice for artists working on their craft?
I don't know if I'm in a position to give a lot of advice, but I'd say you need to just draw a lot if you want to be good at drawing. The main trick is to do it all the time, and to try to draw new things all the time. I also think it's important to be really critical of your own work. Not that you should be really down on yourself all the time, just that you should be able to look at your work and honestly judge what's good and bad about it.
Any final words/thoughts/shout-outs? Thank you!
No final words, other than thanks for reaching out! And thanks for reading, anyone who got this far!