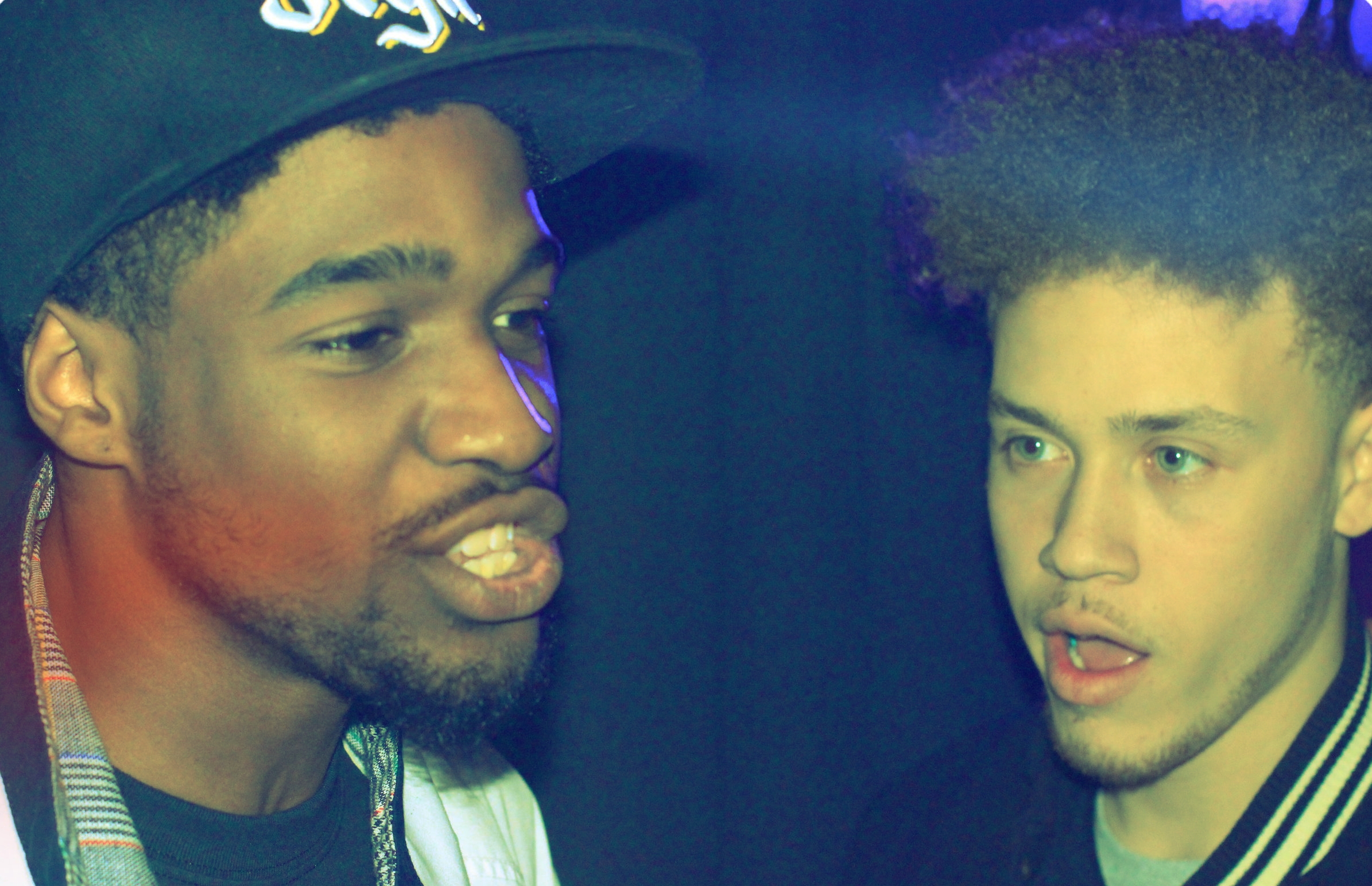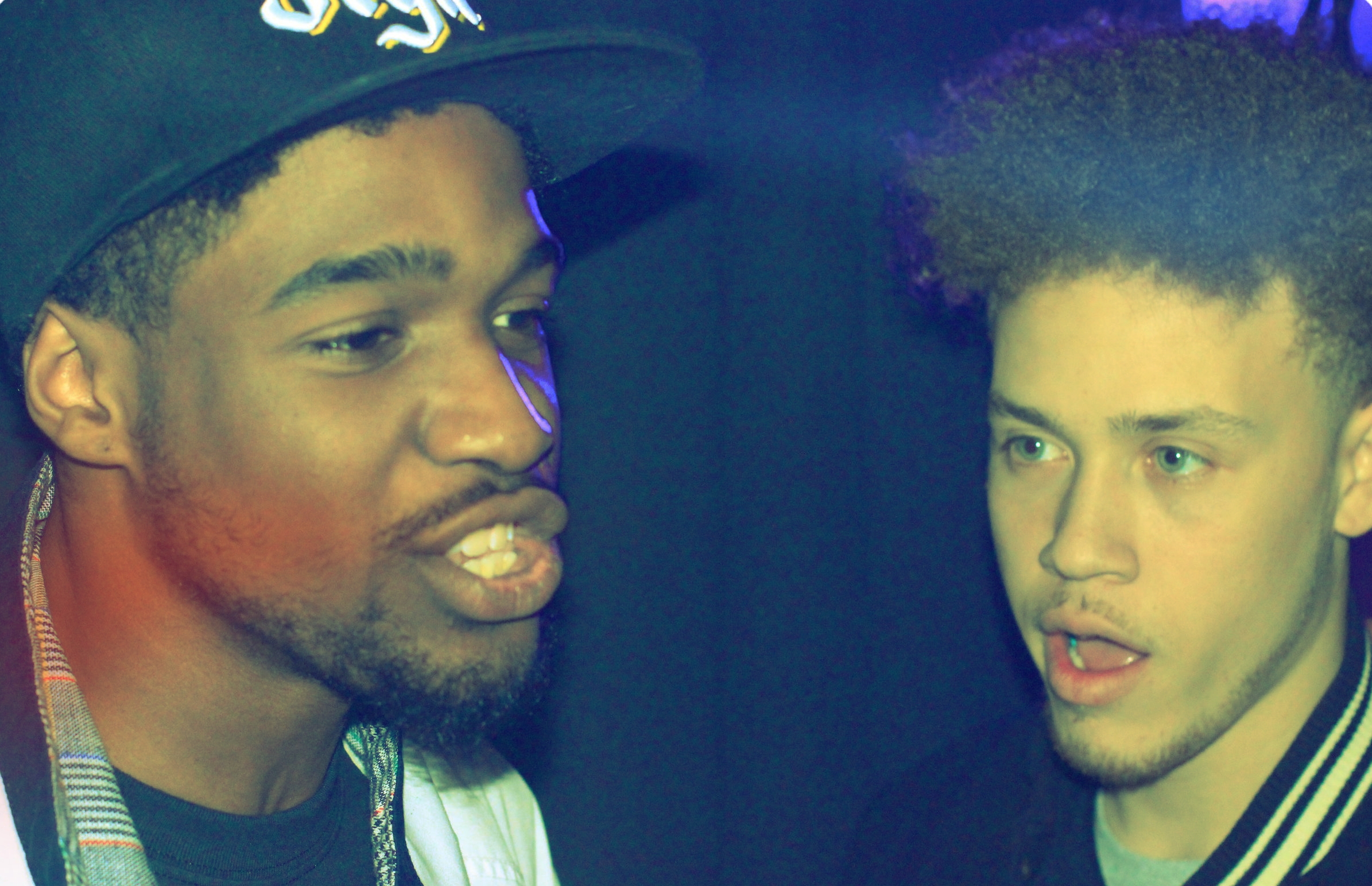 All photos of Hurt Everybody (Supa Bwe, Qari, Mulatto) taken by myself while the group was together. Some blurry, some off-centered, some unreleased. Featuring: ZenZan, Green Sllime, Wisam, Westley Parker, Katrina Tarzian, Roosevelt The Titan, and Yak.
The rise and fall of Chicago trio Hurt Everybody is documented on various websites, but it's a jumbled collage of song premieres, live recap videos, and short blurbs. If you wanted to properly tell the tale, you would have to craft the puzzle on your own (think this but with more SoundCloud patterns). As a consolation, I'm trying my best to cover a large portion of their content within this article. Consider it a beginner's manuel for the short-lived trio. In the tiny bit of time that they rampaged through the Chicago music scene, from the end of 2013 to the beginning of 2016, only a little more than two years, they released over 100 songs. Two mixtapes, two EPs, and a significant amount of loose content scattered throughout.
Supa Bwe. Qari (fka Carl). Mulatto (fka Mulatto Beats). With three artists working together, all of whom produced, and two of whom went vocally and lyrically wild on almost every single track, the chemistry was undeniable. They managed to craft mystical, cosmic songs that sounded unlike anything else. At first, the three kickstarted as a more avant-garde, freeform and abstract group. Songs like "Brother Tree" and "Maple" and "Intertia". Songs that simply can't be boxed into one genre. Over time, Hurt Everybody evolved into an aggressive beast, with Supa Bwe backflipping into crowds during shows, running wild on songs like "Social Network (Gang)" and "2K47", causing riots in the pit. Regardless of the passing of time, their eclectic sound was always absurdly consistent.
While the entire discography is available at the bottom of this site, as well as helpful links to outside interviews, I wanted to focus this article on revisiting my ten favorite Hurt Everybody tracks. In no particular order. This was not an easy list to make and I'll probably change my mind tomorrow, but in my opinion, if these ten tracks ever went up against ten songs from any other Chicago rapper/rap group active during the same time, they'd win by a landslide.
It was the best of times.
01. "Grandma Death"
Production: Qari & Supa Bwe
Favorite line by Supa: "I'm no hero, but I can be your Superman."
Favorite line by Qari: "This that new cargo get thrown off the boat to that blue Monte Carlo, that new Donnie Darko."
Remember when I said 'in no particular order' earlier? Disregard that statement for "Grandma Death (Roberta Sparrow)" as it has been at the top of my list since being released. Not only is this an incredible two minute song, but it was also an outstanding opening piece to play at concerts (like this one). When I become a professional wrestler in my next life, this will be my walkout music.
02. "maple"
Production: Supa Bwe
Favorite line by Supa: "Make all the noise cause they won't make none."
Favorite line by Qari: "And they love when we paint but they never see the image....so let's dance for division."
The song "Maple" is no longer available on SoundCloud, but you can watch the (private) video up above. It's one of their earlier songs and it has stayed one of my favorites. They unlisted the video a while ago because of copyright worries, but manager Wisam chopped up some Star Wars ewok clips and layered the track over it. "Don't want no trouble, I'm no rebel."
03. "Slept All Day" (Ft. Saba)
Production: Mulatto Beats
Favorite line by Supa: "We might share these feelings, my wounds still need healing."
Favorite line by Qari: "And we awoke to the sound of machines, cell phone rings, clouds full of steam."
What a heater. This is a prime example of the mellow Hurt Everybody that I initially magnetized towards. I look at this song and "My Pack" almost as siblings, if that makes any sense. Not only are all three members of Hurt involved in both, but with "Slept All Day", Saba stops by for the final verse. Put all of that on top of a Joanna Newsom sample and you have one of my favorite Chicago rap songs. Ever.
04. "The Seal"
Production: The Village Blacksmith
Favorite line by Supa: "Fix your broken soul."
Favorite line by Qari: "Living forever is part of the fabric, the art of the havoc of havin' a mind."
This song was released in between Hurt Everybody's self-titled project and their follow-up EP, I Know Where the Light Goes. It was during this intermezzo 'era' (an era I refer to as the honeymoon period) that they released some of their finest songs (see also: 'Grandma Death', 'Inertia', 'Just a Spirit with an Appetite', etc.). "The Seal" is one of the few Hurt tracks featuring outside production that was also released on an outside account. This also might be the closest they ever came to releasing cloud rap.
05. "Stoic, Cosmic Her"
Production: Supa Bwe
Favorite line by Supa: "She was born a star and she became a moon."
Favorite line by Qari: "I'm lost in my own world, my own world is lost in me."
This whole song is worthy of being quoted. One of their earlier tracks, the quick chemistry and contrasts between Supa and Qari is undeniable. Again, this song no longer exists on the internet, but hopefully you have it in your iTunes or on a burned CD in your car. It's also worth bringing up Supa's line "You control my tide, you control my cool, you control my nights while I'm controllin' you, sleepless with the moon." Someone needs to make a book of Hurt Everybody poetry.
06. "Paper Thin"
Production: Supa Bwe
Favorite line by Supa: "Is you is my moon or is you ain't my baby?"
Favorite line by Qari: "I gave her the light and she blew out my candle / I gave her the light, she just lit up a Camel."
I can't find this song anywhere on the interwebs, but I couldn't allow myself to pass it on this short list. It's one of the more heartfelt and lovesick songs released by Hurt, with both vocalists at possibly their most poetic. I never get tired of this loose single that never found its way onto any projects. "I dance on boats 'cause I can't swim."
07. "2K47"
Production: Mulatto Beats & Supa Bwe
Favorite line by Supa: "Supa goin' stupid, Supa Isaac Newton, I can see the future."
Favorite line by Qari: "Pass it, I don't need it."
The first (and only) official music video by Hurt Everybody arrived right before they released their project 2K47. The track is part of the trio of massive singles from this release, including "Stay Awake" with Mick Jenkins and Twista as well as "Social Network (Gang)" with Mick Jenkins. All three are worthy of this list, but "2K47" made it because of the video and because of the infamous opening shout from Supa. You know the one.
08. "(Warning) Transmissions (Contact)"
Production: Mulatto Beats & Supa Bwe
Favorite line by Supa: "I can taste this power, put you on this power."
Favorite line by Qari: "All of this work just to prove my hypothesis, blowin' this purp 'til we run out of oxygen."
Two songs in one is always a good move in my opinion, and the Hurt boys do it perfectly here. At first, Mulatto provides the lush, vocal sampled backdrop for "Warning" before Supa gets behind the boards and switches it up entirely with "Contact". This is one of the strongest 1-2 punches off of Hurt's debut, one that deserved a music video. In another world.
09. "Scratched" (Ft. KembeX)
Production: Mulatto Beats & Smoko Ono
Favorite line by Supa: "Fear ain't part of my weakness, smokin' gave you a thesis."
Favorite line by Qari: "Facin' my father's flaws, chasin' my daughter's palms."
"Scratched" is one that is often overlooked when discussing the best Hurt tracks. With production from Mulatto and Smoko, this song is like a Supreme Regime / Hurt Everybody hybrid, with Kembe X stopping by for especially strong bars. I mentioned my favorite lines by Supa and Qari, but it's worth mentioning how Kembe says, "Pockets lookin' like a blowfish." One of my favorite lines on the album. It's also worth mentioning Qari's line "I'm scuffin' up the game shoes, all this shit is brain food." What a track.
10. "Hella Lightning, Hella Swords"
Production: Supa Bwe & Mulatto Beats
Favorite line by Supa: "I don't give no fuck if you don't feel me though, like lightning I'm invincible."
Favorite line by Qari: "Hurt Everybody, girl, don't be shocked.
This aint personal, it's just art."
This is the first song by Hurt that really snapped my neck. Flipping the iTunes ringtone in such an aggressive manner sounds questionable on paper but is pulled off here with perfection. If we're being real, my favorite Hurt song is a tie between "Grandma Death" and "Hella Lightning/Hella Swords". They're all great, but damn, when the beat comes back at the end? This is five-and-a-half minutes of pure mayhem. Prepare your speakers.
Ten Honorable Mentions
"Apotheosis" // "Kingdom of Chicago (Ft. Roosevelt The Titan)" // "Inertia" // "Social Network (Gang) (Ft. Mick Jenkins)" // "Stay Awake (Ft. Mick Jenkins & Twista)" // "My Pack" // "Mochi" // "Pot Goddess 2" // "God Shit" // "Before the War"
Disagree with my list? Shoot me an email at btniespod@gmail.com